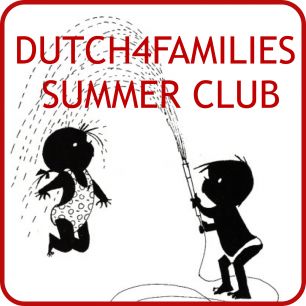 Want to keep your Dutch up when school's out for summer?
Join our Kids' Summer Club!
Every year during summer recess, Talencentrum Holland organizes the TCH Summer Club – a highly popular fun-filled activity programme for expat kids to practice and maintain their Dutch language skills in a playful and carefree setting.
The main emphasis of the programme is on pleasure and play. After all, the Summer Club is part of the kids' summer vacation. However, by interacting with the children in Dutch, and by stimulating them to interact with each other in Dutch as well, they really get to practice and maintain their language skills. The programme has it's home base at Zuidas. Here, we do games and playful learning activities, and embark on the many expeditions and excursions the programme offers.
You can enrol your kid for a single day or have them take part in the entire programme – and anything in between.
TCH Summer Club 2020 Programme:
Once again this summer, the Dutch4Families programme at Talencentrum Holland will have an exciting add-on for expat kids. During school recess we organize a Dutch Summer Club where your kids can spend fun days filled with activities – and keep speaking and learning Dutch in the process!
The programme runs on a daily basis from 10:00 – 13:00. You can enrol your kids for an entire week or for several days throughout one or more weeks.
We work with small groups of no more than 8 children, and some days are booked full already, so don't wait too long! The group will be acompanied by two teachers/supervisors.
Activities will include quest expeditions, outdoor activities and Dutch games in the Beatrixpark. Healthy drinks and snacks will be included.
Our professional lady teachers have a very friendly, child-oriented approach and activities will be based on the principle of Playful Language Learning.
Factsheet
Dates:
Week 1: 6 July – 10 July 10:00 – 13:00 cancelled
Week 2: 13 July – 17 July 10:00 – 13:00 cancelled
Week 3: 3 August – 7 August 10:00 – 13:00 cancelled
Week 4: 10 August – 14 August 10:00 – 13:00 cancelled
Costs:
Programme costs: 50 euros per session. 50 % discount on every second or third child from the same family.
Full-week costs (5 sessions): 225 euros per kid, 50% discount on every second or third child from the same family.
Enrollment
Send an email to info@talencentrumholland.nl or give us a call!
Would you prefer a tailor-made programme? Please contact us to discuss the many possibilities.